noun
Definition — Physical or mental collapse caused by overwork or chronic stress.
physical and emotional exhaustion
cynicism and detachment
feelings of ineffectiveness and lack of accomplishment
---
A month ago, I was laying on the carpeted floor of my apartment sobbing uncontrollably. My nose was dripping. I couldn't even bring myself to get up and get a tissue. I couldn't calm down. I couldn't see the light at the end of the tunnel (or to-do list, rather).
I wish I was just being overdramatic, but for the first time in years, the idea of self-harm played itself out in my head. For context: I haven't engaged in self-harm since I was 17. When it bubbles up in my brain as an option that's a RED FLAG.
I don't know if I'd call it a panic attack, or a breakdown. But I eventually reached for my cell phone and called my Mom while still laying on the ground. I eventually calmed down and started to feel really numb. I came back to reality and eventually got off the floor. I finally booked a counselling appointment the next day.
https://twitter.com/raegjules/status/1040602144913678336
I cannot express enough how stupid I feel telling you this since professionally, I am doing 'well' (those are air quotes). I just started a new job that I'm totally meant for, I was asked to speak on a panel about a topic I'm very passionate about and I'm finishing a video project that I can't even believe I was approached to do.
So why am I laying on my living room floor totally losing my shit? 
There's a big part of me that ACTUALLY STILL FUCKING BELIEVES that if I do everything right, I can do it all: juggle all my professional responsibilities like a winner, stay on my workout schedule, meditate, make time to write, have a clean apartment, cook and grocery shop, see my friends and family, shave my legs and the list goes on. That part of me is wrong, because that is a Big Fat Boldfaced Lie. I struggle to accept the truth — that not only will I never ever be perfect, but striving to be comes at a cost.
I want to tell you I've smartened up after seeing a counsellor. I want to tell you that numb feeling has gone away. But last Friday I cried at my desk in front my coworker as soon as my boss left the office. I literally couldn't keep it in till I was alone. It erupted out of me like that science fair project when you put a mentos in a bottle of coke.
The go-hard goblin
I'm going to call my inner workaholic voice the go hard goblin.
The goblin likes to call the shots, screaming bloody murder and cackling, usually taking the wheel in a convertible with Guy Fieri riding shotgun, driving down a flaming highway that's heading straight to burnout hell.
"You're not smart or talented, which is why you have to work hard," says the go hard goblin.
The goblin tells me I'm not doing enough. It points out other people that are working harder than me and not losing steam or breaking down. It tells me I'm just weak and I need to work on my mindset.
The goblin whispers, "if you stop, you'll lose momentum. If you stop, you'll implode. So full speed ahead, fucker."
I tell the goblin to go to hell, but he's latched on pretty hard and wants to drag me with him.
I've never in my life thought of myself as a workaholic, but someone called me that last week and the goblin said, "you don't work hard enough to be a workaholic."
There you go, I guess.
Self-love and self-care are two things I value very highly, and I'm certainly not living those values when the goblin is driving.
https://twitter.com/raegjules/status/1034782246178312192
Old habits die hard
My counsellor pointed this out (shout out to her) but my go-hard-at-all-costs-and-don't-stop behaviour is how I got through my post-secondary education. I put my head down and pushed. Pushed through exhaustion, all cues of sadness and distress, all needs, desires and more. The thing is when you stop pushing you sort of….emotionally implode.
During my degree, the crushing workload (and my inability to recognize the need for balance, breaks and pacing) drove me to seek literally any form of fast, easy comfort I could find. Alcohol and food were my two top choices, but there's a long list.
By the end I was so burnt out I was severely depressed and I was basically only capable of escapism. Being alone with my own thoughts was SCARY and man oh man did I ever do some truly questionable shit during this time in my life. No wonder.
Now that I'm not putting head down and pushing toward something short term, that strategy won't work. I'm aware of that now that it has been brought to my attention. I need to come up with a strategy for sustainable high performance that doesn't demand all of me at all costs. I'm trying to figure that strategy out and put in the work on my own, but I'm nowhere near a new normal. But I'm trying.
Chill is the new hustle
I heard the phrase above at a Babes Who Brunch event and I think I need to tattoo this on the underside of my eyelids. Being able to say I'm "sooooOoooOOoo busy" has become part of my personality, but it sure doesn't make me happier or more interesting.
News flash Raegan: everyone is busy. You are not a snowflake.
I can fully admit that being so busy I can't handle my shit has served as a great crutch to avoid being left with my own thoughts (admitted, I get lonely, also — should I be making RRSP contributions????).
But I certainly don't get a busy badge of honour for curling up in the fetal position on my living room floor.
I used to joke about the fact that I'm basically white knuckling it through life. Short term, once in a while to get something, ok fine. But I know that without a shadow of a doubt I do not act like the person I want to be when I'm functioning this way. I'm detached, aggressive and foggy. I cry a lot. It takes me twice as long to get things done.
It doesn't matter how well someone else seems to juggle 50 things. I have to remind myself I don't live in their head day to day and I don't know what's going on in there. I live in my own mind and it's screaming PUMP THE BREAKS RAEGAN YOU'RE GONNA RUN US INTO A GODDAM WALL.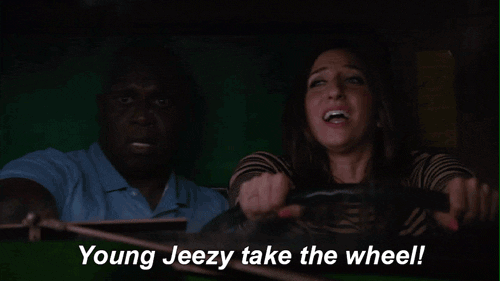 Instead of saying "I've got this figured out guys," and write some sort of rainbow ending I thought I'd share what I'm doing to try to get off the hot mess express! Because it's not about letting myself sleep for 12 hours, watching 12 hours of Netflix holed up in my apartment and/or eating a jar of peanut butter to make myself feel better. They are all temporary fixes to a much bigger problem.
Self-care, to me, is doing the stuff that's hard to get momentum on, and you don't wanna do, but honours future you.
Yeah I suck at this. See how I started that sentence?
I have a bad habit of not valuing my time very highly which blows up in my face frequently. I get excited about things and I say yes right away before actually thinking it through, so my strategy is to take 24 hrs (or at least two hours) to think and respond back before I take on any new projects/meetings/tasks etc.
Daily gratitude journaling
I use the Five Minute Journal now (I leave it next to my bed so I remember to fill it out when I get up then throw it on my pillow so I finish it before I pass out), BUT I used to just try to think about or jot down three good things from the day. I learned this trick from the first self-help book I ever read: The Happiness Advantage.
So stupidly simple, but goddam it is this hard. I have an alarm on my phone that goes off every night at 9:30pm reminding me to go to bed — that's how bad I am at this.
I noticed that I was in a pattern where I'd lay in bed watching Netflix to "destress" at the end of the night (escape and quiet the yelling in my brain until I couldn't keep my eyes open anymore and pass out). Then my alarm would go off at 5:00am and I would be instantly mad at myself while I dragged my body out of bed. For the short term, I've had my mom change the password to our shared Netflix account and I got myself a stack of fiction books from the library that I'm excited to read before bed.
Scheduling in time for self-care
I could never have free time if I wanted to. I try to cross off everything else on my to-do list, but self-care never makes it on there. I literally wrote "take a goddam bubble bath" in my agenda today. I tell people to help hold me accountable to leave work at the time I said I would leave. I'm trying to remind myself I'm not a hero if I forgo this.
I am very good at isolating myself when I put the busy blinders on for too long. I tell myself I'm not fun to be around and I need the time to work anyway. I have zero compassion for myself, so I find it significantly harder to give off a positive "aura" as my friend Lauren would say (also hard to hide what you're feeling when you are exhausted).
I'm lucky to have people in my life that know I get like this and wait patiently for me to surface, OR sometimes don't take my no's and cancelled plans for an answer. They come to my apartment when I can barely bring myself to get out of bed on a Friday night after a long week, hold me and let me cry on them. They make me laugh when it doesn't feel possible. They listen to my irrational babble and bring me back to earth.
100% of the time I feel at least a little bit better once I've reached out.
Deleting the email app on your phone, blacklisting Gmail using SelfControl  and/or leaving your phone at home
I am a slave to my four email addresses — they may as well be wearing leather boots and holding a whip. We only have so much willpower. I've found removing the source of temptation helps a lot (this applies to a lot of things, as you'll see below). I'm so much clearer once I've been away from screens for 4+ hours.
Avoiding alcohol + drugs + food + other easy numbing behaviours
Get honest with yourself here about your "why." For me, I would have a few (too many) pints at the end of the week in college because I couldn't cope with the impeding dread of doing homework at my dining room table all weekend. These behaviours become bad when the why becomes problematic.
Again, I know my willpower can be weak so I like the whole "handcuff myself to a radiator" strategy where I try to remove the temptation altogether if possible (hence why I do dry months). Tell people about what you're trying to do and have them ruthlessly hold you accountable. Clear out your cupboards. Whatever it takes.
I can't say I'm very consistent with this, but if my head feels chaotic and I do a guided meditation it's like pulling a parachute. As much as I sometimes avoid being alone in my own thoughts for too long, (like you pretend to not smell that thing that is rotting under the porch) good things happen when you get quiet. Again, I sort of have to force myself to do it but once I open my eyes again I always feel at least a little bit better.
Repeating affirmations/phrases and remembering to breathe deep
Recently, when I've been about to list off a confusing combo of swears and talk about how I want to set something on fire — this is usually over text message by the way — I do my best to  lean back, breathe deep and say "let go." I swear I've said "let go" to myself in my head 100 times a day for the last two weeks since my friend Amie said it to me, but it's true. I really do have to.
And you know what? It works. I haven't lit a single thing on fire. It's the little victories y'all.