When I was 21, I went on a walking tour of St. Boniface alone. Being a person who grew up caring WAY too much about what people thought of me (to the point where I let people's opinions shape who I was for many years), this felt like an act of defiance.
I was still really new to being single at the time, and I think it was the first time I purposely struck out and did something without a friend by my side. It was a Saturday morning and I had no plans that day. I remember when the tour guide asked the group if anyone was from Winnipeg and I was the only one who put my hand up.
I ended up chatting with the French-speaking guide and found out he was moving to somewhere in Europe the following month and this was his summer job. Then I walked with the tourists (most of them were retired folks) and talked to them about what they thought about Winnipeg so far and what they still wanted to do. I learned all these beautiful and unexpected things about an area of my city that had previously seemed so exotic to me.
Not only did the tour put a dumb smile on my face the rest of the day, but it also made me realize that going it alone was more about attitude than about the activity.
I'm now 24, and I now prefer doing most things on my own. In fact, I travelled through France, Switzerland and Italy alone for two weeks this summer and learned a ton about myself and enjoyed the hell out of it. Obviously, it wasn't always this way. I've worked up to this point.
WHAT ARE YOU WAITING FOR?
No seriously. Do you have a list, or something specific that you really want to do but nobody will do it with you on the day you want to do it? That's an opportunity!
I've talked about this before in another blog post, but the summer after I finished my degree I wrote a long list of activities that I wanted to check off before the summer was over. Some of them I had to do with other people, but a lot I could do alone. That was the first time I went to the Planetarium alone — highly recommend it — and travelled on my own agenda to Halifax and had to entertain myself.
My advice? Make a list, or at least identify something you've always wanted to try or do. Go at it with fury. Stop waiting for your friends to have time or money or both.
Here's a list of 50 things to do alone to get you started.
PUT YOUR DAMN PHONE AWAY
It's tempting to go out alone and just be on your phone the whole time, but it really defeats the purpose and makes you less present. I think a lot of people reach for their phone instinctively when they feel uncomfortable as a reflex now (myself included), but it's a cop out and we all know it. After watching a famous Simon Sinek video I realized that people are so uncomfortable with the idea of eye contact and looking bored that when someone goes to the washroom at a restaurant they'd rather scroll on social than look around the restaurant for two minutes.
For example, if you're going take yourself out for food, at least put your phone away (out of immediate reach) while you enjoy your dish. Be present. Chew slowly. It's really not that terrible.
GOING IN COLD
Fun fact: our tolerance for uncomfortable situations and the unknown increases the more we put ourselves in situations with elements of uncertainty. We can change our threshold for fear (in safe, non-threating situations of course) if we do enough to challenge it.
I like to call it brain blocking, or going in cold. I'm sure there's a chapter in a sales textbook somewhere about this, but I think it especially applies to doing things alone.
I shut my brain off and start moving my body before my brain has time to stop me or catch up. I learned this tactic when I had to do journalism streeters in college (this is where reporters walk up to random strangers on the street and ask them for an opinion).  My brain would be screaming profanities at me, but I knew the moment I hesitate I would be done for and fail the assignment.
Get out of your car. Stand up. Move your legs. Walk through the door. The first movement is the hardest. Once you're in the cold, it's not so bad.
GETTING OVER YOURSELF
The biggest barrier initially was getting over the what-will-people-think mental block I was imposing on myself.
Here are a few tricks I still use when I start to feel this way:
1) I imagine the worst-case scenario: some dickhead makes a comment to the person or people they are with about me, and I hear it.
"Oh wow look at that person eating alone — how sad."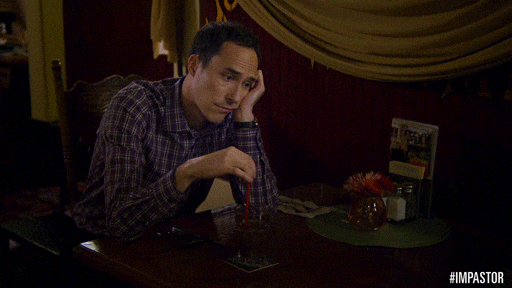 First off, I know I have people who love me. No question. Second, their words aren't bullets unless I load the gun for them. If I take it to heart, I go down. I don't have to though — because it's not true.
Second, what kind of dickhead comments on someone minding their own damn business? Don't be that person. Let people enjoy their time alone in peace.
Here's the game plan if this does actually happen to you: look them dead in the eyes, smile and take an enormous bite of my food without breaking eye contact. Nothing says confidence like shoving half a sandwich in your mouth in one bite.
2) I laugh out loud. By myself. At myself. Works like a charm.
A recent example: I was zoned out and walking around Toronto alone trying to find a place to eat, full of anxiety about the thought of sitting in a busy restaurant alone. I accidentally walked in front of a car turning when I wasn't supposed to and I screamed and ran back to the sidewalk and the car honked at me. There was a guy standing on the curb who had seen the whole thing and he said, "he sure told you," and I started laughing really hard. Like so hard I almost started crying.
I think he was confused but it totally brought me back into the moment and reminded me to not take myself too seriously.
Don't know where to start? Go to a movie alone — it's a great way to dip your toe into the pool of trying things by yourself. Plus you can pick the movie, sit in a single seat, and don't have to split your drink or snacks with anyone.
p.s. The first ever movie I ever saw alone was How To Be Single and I'm such a cliché BUT HEY IF THE SHOES FITS WEAR ITTTTT.
---
Do you have something you love doing alone?